"Karamoja needs urgent support in nutrition and food security"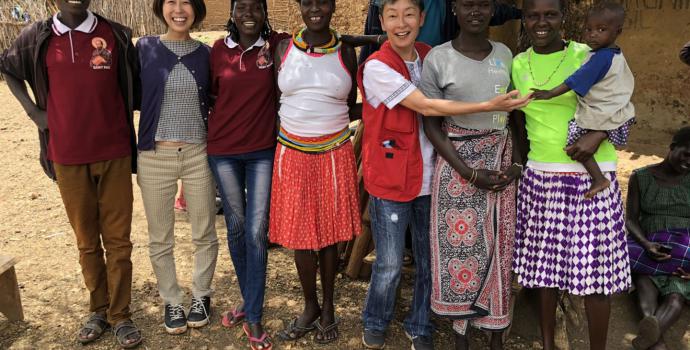 Aiko (in red jacket) with some of the members of the Karimojong community.
Hino Aiko, the project manager of Japan MoFA project, has been in Uganda for three years supporting teams to implement livelihood and nutrition interventions in Kasese District. She describes her work in Uganda as highly fulfilling as she gets to engage with communities and the different stakeholders Save the Children works with. Recently, during her field visit to Karamoja, she got to speak to staff and the community.
"The hunger situation in Karamoja is very urgent, it reminds me of the South Sudan situation, and there is a need for all of us stakeholders to work together to support the communities," Aiko says.
Here she talks about her experience in Karamoja, working with Save the Children, and how the Japan government supports Save the Children's work in Uganda.
You recently visited Karamoja. Could this be a sign that the JMoFA project is moving there?
The project is not guaranteed to move as yet, and the possibility of receiving the funding is still very low because the competitors are very many. However, I went to Karamoja because the stakes are high and if we get funding, we shall move there. Karamoja has the biggest need for nutrition and food security. We would like to move the success factors in Kasese to Moroto.
How many other projects is Japan funding in the SCI Uganda CO? Should this be taken as the beginning of more support and relationships from Japan?
There are two projects. JMoFA and the Japan Platform which is in emergencies. However, Japan is one of the biggest donors to the UN so if Save the Children maintains great relationships with UN agencies in Uganda, there is a great opportunity for the future. In fact, Japan announced a donation of $1 million donation to WFP to save the people of Karamoja.
In your interactions with the Karimojong community what stood out for you?
The hunger crisis is obvious. Karamoja is like South Sudan actually. There is insecurity and definitely, social development is impeded. Without security, agriculture, and livestock activity and if they can't produce food, they simply starve. The people in Karamoja are mainly pastoralists and they do not know much about agriculture but as interventions of different organizations switch to agriculture, JMoFA would like to join in.
On her reflections on working in South Sudan and Karamoja, Aiko says the two have something in common; insecurity.
"As long as insecurity exists, normal social activities are not available in Karamoja just as in South Sudan. Even though farmers are there, they cannot expect long-term commitment. Therefore, security is the first then method for better productivity."