Getting child mothers back in school: The story of Ritah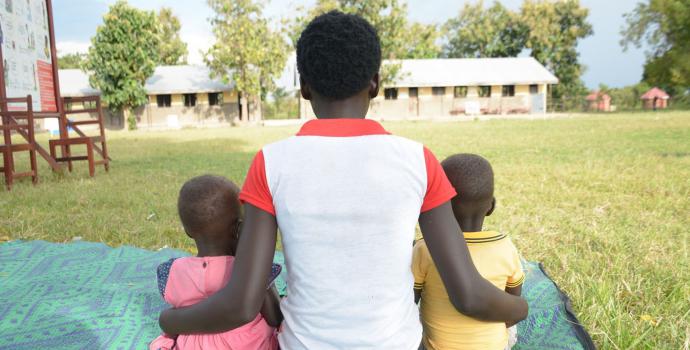 Ritah* and her twins.
At the age of 15, Ritah* gave birth to twins, a boy and a girl. Her school told her she could only return after having her baby, but Ritah knew this would be impossible as her father had also abandoned her. She then started staying with her grandmother, who was not able to support her.
"I knew nobody would ever support me to resume school. My living condition worsened when I gave birth," Ritah says.
Ritah started doing casual work in the community to provide for her twins, like fetching water and firewood. At the point when she had completely given up on education, a friend informed her about Accelerated Education Program (AEP). Every year teachers and caseworkers from schools implementing AEP move around communities registering children who qualify to join the programme.
AEP uses a condensed curriculum to teach the seven years of Ugandan primary school in three years. It is designed to help children aged 10–18 who dropped out of school due to conflict, poverty, and child marriage, among other reasons, to catch up with their primary school and get back into mainstream education or alternatives like vocational schools.
"The news about re-joining school was like a light in the darkness because I know in this community, when you give birth, that's the end of school," says Ritah.
Ritah joined Level Three, which comprises Primary Six and Seven, at Orinya AEP classes, and was supported with scholastic materials and sanitary pads to enable her comfortably attend her classes.
The lack of moral support for child mothers, especially from school structures, scared Ritah from returning to school as she thought she would be laughed at by her classmates and the teachers. Ritah also wondered how she would be able to sit in class with her twins.
"I feared that I'd be laughed at by other studentsbecause I'm a child mother," Ritah says, before adding that that fear was increased by the lack of someone to help mind her babies while she was in class. "But my teachers talked to me well and didn't make me feel out of place,"Ritah says.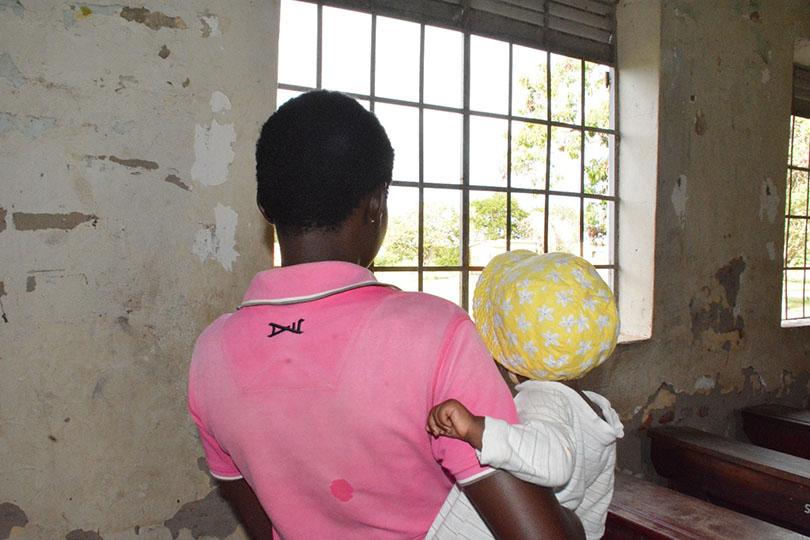 Sarah* and her baby at school.
In her class, Ritah feels comfortable because there are other child mothers. One of them is Sarah* who, just like Ritah, got pregnant when she was 15 and gave birth to a baby girl. By the time she got pregnant, Sarah was in Primary Seven and missed sitting her Primary Leaving Examinations that year.
"I missed the final exams because I was pregnant, and this made me sad. When my friends told me about the AEP classes, I was very happy, and I decided to join because I was home doing nothing," Sarah reveals.
Sarah says she likes her teachers because they counsel her and encourage her to study hard.
"My teachers always tell me that I can still be anything I want in the future as long as I pay attention to my education. I want to be a nurse and I believe I can do it," she says.
Save the Children also put in place baby minders who help take care of the babies while their mothers are in class, which enables them to concentrate. In addition, the babies are given porridge prepared by the school, therefore, their mothers do not worry about what their children will feed on while they learn.
"Most of these child parents were timid and sceptical about returning to school. However, through robust community engagement and sensitization meetings done jointly with school management committees, they gained the confidence to register for AEP," Michael Ejakait, Project Coordinator, ECW, says.
Save the children also constructed temporary shelters used as breastfeeding corners at school, especially for those children whose parents have volunteered to support them.
"We have also managed to advocate for a school feeding programme that partially supports child parents. The schools also have arrangements to allow child parents to move out of class to breastfeed," Ejakait says.
With support from Education Cannot Wait, SCI directly supports 11 primary schools in Obongi and Terego districts. Today, 206 child parents (174 in Palorinya and 32 in Rhino camp) across the two settlements in West Nile are being supported.
All children have the right to quality basic education, regardless of where they live or who they are, and Save the Children is committed to supporting children in accessing quality basic education in a conducive classroom and school setting. In the refugee and host communities, Save the Children has been doing this work together with 14 other partners under the Uganda Education Consortium which is enabled by support from European Union and Education Cannot Wait.
*Names have been changed to protect identities