Born and raised in Karamoja, Catherine is determined to end child labor in her community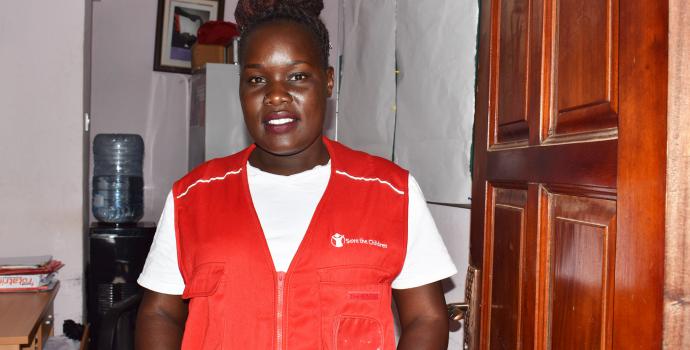 Catherine is currently the project officer, Work: No Child's Business, a project Save the Children implements in Karamoja to fight against child labour.
Born and raised in Karamoja, one of Uganda's remotest region, Catherine Sagal grew up with a dream to become a social worker and protect children.
Due to the rigid context of Karamoja, Catherine was exposed to child protection concerns at an early age, something that unconsciously shaped her future career. Having lost her father to cattle raids at the age of five, she started brewing alcohol with her mother as their family's main source of income.
With support from the Catholic church in her community, Catherine was enrolled in school until she graduated from the university. This support created a desire in her to work with organizations that support children in her community so they can have better lives like her.
Today, Catherine works with Save the Children as a Child Protection Officer in Moroto District, Karamoja region. Her work involves continuously sensitizing communities on the causes of child labour, and its dangers and drafting ways to strengthen the existing child protection structures. With mining as one of the sources of income for the majority of the families within Karamoja, many children are sent to work in the mining sites, as explained by Catherine.
"In child protection, I handle children aged 18 and below at the mining sites. Our entry point is children engaged in child labor, especially in gold mining in Nakiloro and Nanyidik parishes and marble stones in Kosiroi parish all within Moroto District," she says.
According to Catherine, children in Karamoja are lagging because of being subjected to child labor and early marriages. Due to the current hunger crisis, child protection concerns have increased, with more children being told to stay home as shepherds while the young girls are forcefully married off in exchange for cows. To mitigate this, Catherine is working with local existing child protection structures such as Para social workers to act as her eyes and ears in the community to identify and report child abuse cases.
Asked what her motivation is, Catherine says it is because she grew up in this same context and faced the same challenges as a child. Now she is dedicated to ensuring children within her community have someone to protect them from abuse.
"Life as a child in Karamoja was not easy for me. Every morning before going to school, my mother would request me first to move around and sell alcohol so we could get money for food. She would also pack for me some alcohol to take as my tea at school," Catherine narrates.

"In the evening after school, I'd find my mother still selling alcohol, and she'd ask me to help her serve some of the customers who were old men. Sometimes these men would touch me in ways that made me uncomfortable, but I had nowhere to report to receive protection from this. It made me feel bad, but I wasn't aware that this was child abuse and that I could be protected from it," she adds.
Sadly, many children in Karamoja still go through similar experiences like Catherine's.
"My biggest motivation to work every day is that all these things are still happening in Karamoja. Children still take alcohol as their tea and lunch; children are still doing heavy work that is age inappropriate, and children are still being abused!" Catherine emphasizes.
Catherine says her greatest joy is when she successfully withdraws a child from the mining sites and enrolls them in school. She is happy because more children and parents have been educated on child rights through her work.
"By the time I started working in these communities in 2019, people living in mining areas didn't see any value in education, and they had no schools. Now with support from Save the Children, each of these communities has established at least one community school," she reveals.

"Before children in these communities didn't know their rights, and they didn't know where to report if they felt they had been abused. Right now, a child knows that they can either report to a para-social worker or call Sauti 116," she adds.
The road to achieving a Karamoja region free of child abuse is still long, but Catherine is determined to see it through. She is committed to ensuring that every child knows their rights and where to get support from.